Hyderabad is known for its rich culture, colors, food, timeless pearls but nowadays fashion delicacy list is never ending. Yes, there is more to know about this it?
If it is a wedding or a baby shower, everybody searches for the best designer boutique in hyderabad, hyderabad designer sarees boutique, boutique dresses in hyderabad or top fashion designers in hyderabad?
Its never-ending talent pool from actors and musicians to sportspersons – not to forget the brilliant bunch of designers who made it and continue to make it big in the fashion industry. Designers like Gaurang Shah, Jayanthi Reddy, and Asmita Marwa prove that Hyderabadis can never cease to amaze us.
Starting from the gorgeous designer sarees, designer dresses, designer blouses, designer sarees, and exquisite designer pieces of jewelry mushrooming rapidly to the beautiful matching weave of handloom fabrics on contemporary silhouettes, stores here offer all these, and more!
Here is a list of top 10 stylish fashion boutique.
1. Anahita
If you live in Hyderabad, you might have heard about this amazing boutique Anahita. It is very popular, and they have a gorgeous curated collection from the best of designer labels like Gauri & Nanika, Ridhi Mehra, Manish Arora, Jayanti Reddy, and so on. This boutique has it all from luxurious dresses, sarees, accessories, and everything Indian. But also for those who prefer classic designs to modern style outfits. And, they paired up the costume with match silhouettes and jewelry that take care of all your party wear needs.
2. Golden Threads
Another amazing designer clothing boutique is at Jubilee Hills, Hyderabad, its especially for bridal wear, designer bridal sarees, designer lehengas, bridal lehengas and more. This is also one of the best designer boutique own by Kavita gutta for all the brides-to-be.
As the name itself speaks about the delicate, impressive and magnificent embroidery weaving on the beautiful bridal wear. There is an abundance of designer clothes starting from sarees to lehengas, Anarkali's, half saris and many more. The store has an exclusive and extraordinary collection of designer dresses to perfectly matched accessories.
3. Plantation House
If you are someone who prefers handcrafted or handlooms clothing, then this is your one stop to shop. Shalini Subramanian owns this boutique; she is just the one you need. You may not get sarees or lehengas here, but you will get the pretty collection of handloom designer kurtas, shirts, dresses, wide-legged pants, stoles, and pashmina shawls. Every piece of outfit they made is design and craft from handloom silks, organic cotton and natural-dyed fabrics hold a sense of Indian touch. If you are the one who wants to dress by today's style and colors, then this boutique is a perfect store you shouldn't miss to visit.
This very fashionable, modish clothing boutique is a perfect place to visit, especially during the late evening hours.
4. Anushree Reddy
A self-made the Hyderabadi designer, who find peace and joy in making clothes, who additionally made it to the famous show, Lakme Fashion Week 2013, has a great deal to offer to the beautiful and vibrant crowd of the town. Situated at Banjara Hills, street number 3, this fashioner design boutique holds equips that have an ideal mix of vintage flora with zardozi work.
The collections are known for their vivacious colors, show, and fabulousness that take into account all the festive needs of the period. With the best collection of designer saris, lehengas, anarkalis and jackets with overwhelming embellishments, lacework, zardosi weaving, etc.
It is one must stop top clothing boutique for each Hyderabadi lady of the hour. Her creations can also be found in Anahita, Elahe and Angostura where a lot more designer collections are amasse.
5. Shravan's Studio
Shravan Kumar Ramaswamy boutique is a perfect mix of ethnic and regal designs outfit that connect the current trends and culture. It is found by Shravan Kumar and its famous for weavers across. It is one of the best stores to visit in Hyderabad for designer and traditional style bridal wear. From beautiful designer sarees to party wear lehengas.
Visit this store to check out these stylish designed by the expert designer at their store.
6. Monk By Madhu Verma
A touch of Indo western collection will win your heart – visit monk fashion boutique in Hyderabad founded by the famous Hyderabadi designer Madhu Verma. Offering exquisite lehengas, designer sarees, half sarees, floor-length anarkalis and fusion style gowns. This boutique is located in Road No. 12 Banjara Hills, this popular boutique is the one stop shop for would be brides, fashionistas, celebs and all those who love unique and designer Indian wear.
7. Elahe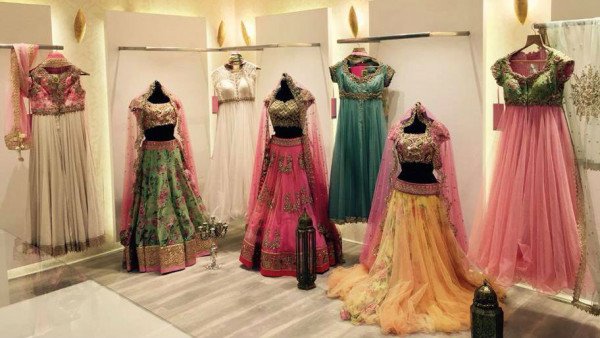 Being the one stop where your choice of clothes are design with a lot of hard work. Elahe offers the perfect Indian attires in fashion and showcases the collection of India's talented fashion designers. Elahe is one of the best saree boutiques in Hyderabad found by the famous designer like Shantanu Goenka works with the attention paid to great detailing and stylish designs. Designer clothes and saree are wore by famous Bollywood celebrities such as Deepika Padukone's replica outfits. Elahe at Hyderabad has some of the best dress designers the city can offer.
Famous designers like Shantanu Goenka have featured their collection of bridal sarees and lehengas at this stylish store.
8. Anagha
Owned by the Mrs. Sarvamangala Chavali, who previously work as an ex-air hostess and one of the current brand ambassador for Hyderabad Metro Railway, the store is a perfect stop for wedding season. This store was begin with the concept of showcasing local handloom and fabrics of Andhra Pradesh to the audience with a trendy twist. The store is located at Road No 7, Banjara Hills beside Tarun Tahiliani Studio (Hyderabad).
9. Varuna Jithesh
Another amazing boutique owned and called as Varuna jithesh located at Sainikpuri, Secunderabad. It has all the extravagant choices of bridal wear, holds a fantastic collection of lehengas, half-saris, designer blouses, saris, and much more available in vibrant colors, trendy and ethnic patterns, the designs are made to steal your heart.
10. Rumor, Hyderabad

The exquisite fashion boutique has it all a women desire, located at Jubilee Hills, Hyderabad. This boutique has started their venture and made a good mark in the business with their stunning collection of designer clothes include lehengas, Anarkali suits and more. This store is rank as one of the top boutiques in Hyderabad with some exclusive collection and designs.
Hope you enjoyed our post on Top 10 Fashion Boutiques in Hyderabad.
Did we miss any good designer boutiques in Hyderabad? Let us know by dropping in a text in the comments section below.